Yesterday after we went to Tillicum Village. We went to the ferry around 3ish. It was windy and all. The ferry ride was about 45 minutes. It was not too crowded. I brought my iPod with me, so it's not too bad. Upon arrival, we were served a hot steaming cup of clams. It was very delish, and it's custom to dump the shell on the ground. Then we can walked in and head to the dining room. Before reading the dining room, you can see how they cooked the salmon. The fish is butterflied and skewered to a "thingy" and was smoked (baked, according to the site, but it looked like it's smoked). The dinner was delish too. Here is the menu I got from the website.

Steamed Clams in Nectar
As you disembark the boat join other guests for a welcoming mug of steamed clams in broth with a touch of butter and onions – delicious! As is tradition at Tillicum, the used shells are crushed under foot to create the beautiful pathway.

Traditional Alder Baked Salmon
Savor this centuries-old treat! Our salmon, baked around alder wood fires on cedar stakes, is unlike anything you have ever tasted. Taking approximately one hour to bake slowly to perfection, the salmon retains moisture and takes on a wonderful mild flavor unique to this style of cooking. Served with our signature Juniper Berry Seasoning.

Signature Northwest Stew
This thick meaty stew consisting of venison, beef and bison is full of flavors married together in a rich veal stock, combined with root vegetables and potatoes for a mouth-watering dish.

Wild Grain Harvest Rice
Try this wonderful combination of wild and regular rice, cooked to perfection with onions, garlic and a fragrant vegetable stock.

Warm Whole Grain Tillicum Bread
This rich, dark, slightly-sweet bread is made with a hint of molasses – our own private recipe, served warm with butter. So popular, in fact, you can even purchase loaves to take home!

Field Greens Salad
Seasonal greens, dried cranberries, sunflower seeds, Oregon blue cheese, with stone ground rosemary dressing or raspberry vinaigrette served on the side.

Tri-Colored Bean Salad
A colorful display of marinated creamy-white cannellini beans and bright, fresh green beans
tossed with cherry tomatoes, fresh basil and shallots in a red-wine vinaigrette
Fresh Fruit Salad
Assorted Melons, Grapes, Strawberries and Pineapple, served with a Strawberry Honey Dipping Sauce

Northwest Dessert Treat
Our irresistible Chocolate Chunk Brownie with Marionberry Swirl – Delicious!
After dinner, there was a show about the history of the Indians. Somehow I remember the wolf pack of Twilight. :P
I have received SPELLING from Aromaleigh yesterday. The colors are gorgeous. They are all named after the spells (duh). I can remember the majority of what they are. :) Nerd? But some of them I am not sure... makes me want to read the books again. haha.
Today I went to Bartell again and got 2 more lipsticks. B52 and Ceto. There are some lovely swatches
here
. I haven't try them yet. B53 looks like a creamy color with no shimmer, where as Ceto does look shimmery. I know Cherry Culture is on sale right now, but I don't have to pay shipping from the shop and if I buy online, and I can see the actual color is nice even though I can't swatch them.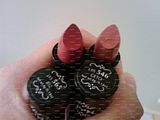 Anyhoo. I am hoping to do some inventory work for ylbb and get a bit more organized.