Long time no post! Well, long time no post on this blog. Well in this post, I will try to post a summary of a few of my review posts. ;)
Here is a different kind of review with F G G (For Goodness Grape, on Etsy)--. Although I have my "disagreement" with this company on a "seller level" last year, I do actually like their lip candy. I have used so far Chocolate Cream, Cherry Lemonade and Kettle Corn. All smell good and have decent texture and I have a tube of Chocolate Mint that I haven't open yet, but I have no doubt that it will smell great. (Once again, my sense of smell is very unreliable... but I smell them all fine and love what I have received) Though the shipping time is kind of long, but she did mention that in her invoice that it could take 10-15 days. Anyway, I am going to present you with the fact, so you will see. I placed my ordered on 6/6/11, received on 6/20/11. Mine is a "custom order", because Jelly Doughnut was usually a roller perfume, but I preferred solid, so I convo seller and requested it in solid perfume along with a few other items. I just assumed everything is the same price as product within same category. What I have ordered:
Lip Candy:
Chocolate Cream (backup) Chocolate Martini (it has chocolate!) Raspberry Cream (I love raspberry) Black & Blueberry (sounds yum)
Solid perfume:
Jelly Doughnut (i read good thing about this in the roller form)
Lip scrub:
Vanilla Cake Batter (just wanna try it) Total: 28.5 Shipping: $5.85 Grand Total: $34.35 And according to her Etsy shop, all Lip Candy is $4 each; solid perfume is $6.25; lip scrub is $7.75. Technically it's $30 for all tubes and then $7.88 for shipping, totaling a whopping $37.88. But she charged me 28.5 for all (instead of $30) and shipping was "combined". So it's cheaper than if purchased separately. However, shipping is still a lot for the
discounted
$5.85, especially when I got my order today and saw how much was the real shipping.
I paid $5.85 for a $1.92 shipping. All products came in a little plastic bag with a twine on top. There are 6 tubes total with the small plastic bag, a twine and a business card... with an additional piece of small bubble wrap and the mailer. I am just showing the number here.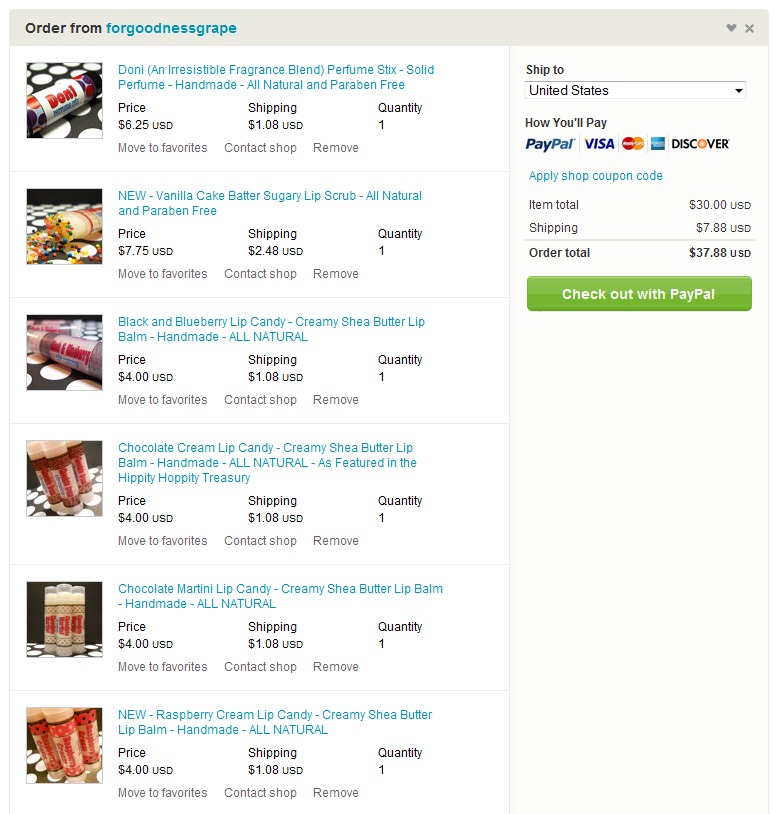 This is my pretend cart.
My package came in like this:
And all spread out:
I like what I have bought, but the shipping is just a tad ______.
++++++
My last order from F G G. I ordered the 5 for $15 "set". Shipping was a more reasonable $2.95 (though it really cost $1.75). Order placed 6.12.11, received 6.22.11. Turn around time was better than the last order.

One thing about their lip candy. I love the texture and the flavor (which is scent, really, though she labeled it as "fragrance" and I hope it's just another word she used for "flavor")... but now that I am a bit used to sweetened balm, I was secretly hoping it "tasted" good too, but it's ok. I don't want to lick my lips.

Ok, onto the flavors:
Coffee with Cream & Sugar (well, I do enjoy my cup of coffee in the morning)
Dark Cherry Beach Balm (which has zinc and avocado oil, supposedly help protect against sun... and I really wanted to try it. ha.)
Moon Pie (because it has chocolate, graham cracker and marshmallow... sounds yum... and there is CHOCOLATE!)
Shirley Temple (I hope it smell like ginger ale, another flavor/scent that I enjoy)
Fuzzy Navel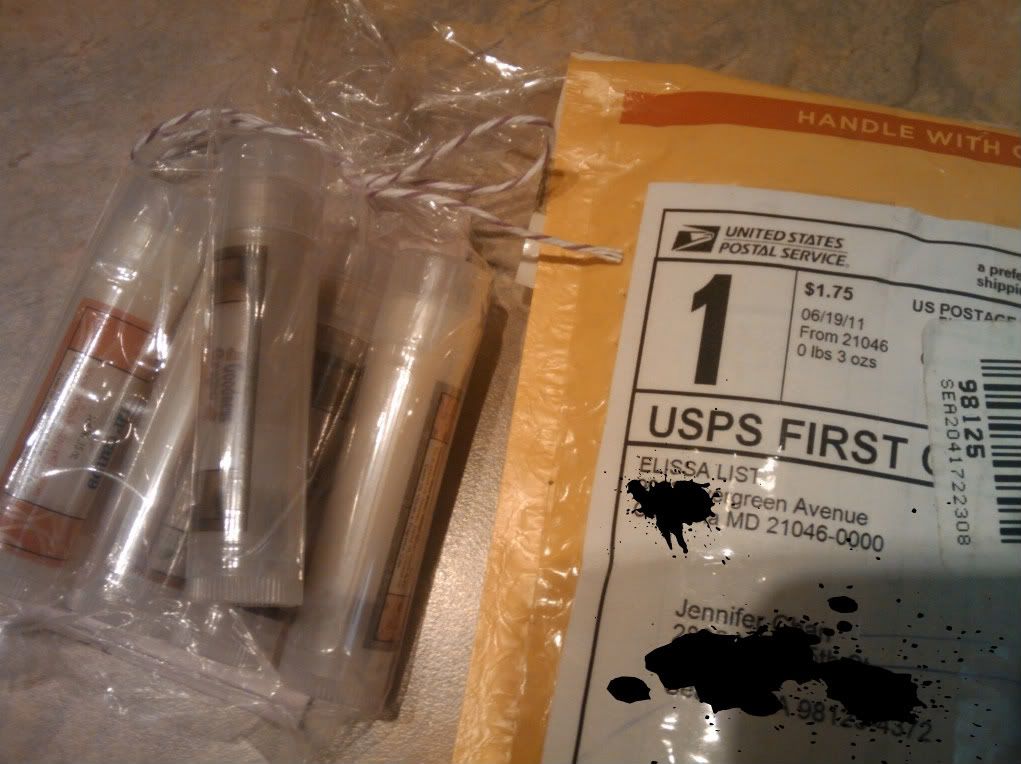 And if you like lippies, you should definitely try FGG, they have good stuff, though you may not like the shipping as much as with the lippies.