What's in My Bag. September 2011 version.
I finally decided to take a serious look in my bag. ha! I put this small "purse" in my bigger "work bag", where I also put my book and key and other necessities.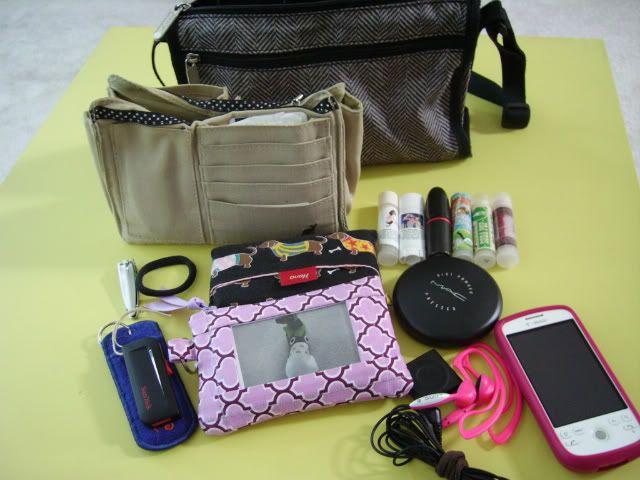 LeSportSac small shoulder bag
. Both the style and the pattern are no longer available.
Pouchee
. Mine is a
cotton
one. Looks like I bought it in 7/2007 and it is still in very good condition.
Lippies: (right to left)
Chocolate Cream by FGG
-I love a simple chocolate lip balm. Just chocolate.
Ginger Ale by Crazy Rumors
-my new flavor/fragrance obsession.
Karma Apple by Bubble and Bee
Viva Glam V by MAC
-a good lip color looks almost with all skin tone.
Super Balm by YLBB
-my baby
MAC blot powder
Tissue holder
-this is a custom order.
Wallet
-also a custom order. I haven't use a "real" wallet for a very long time. I love this one, especially it has an id slot that is INSIDE the wallet.
Hair thing, nail clippers, thumb drive with its holder (which was also bought from Etsy long time ago). Of course that is my phone, my iPod shuffle and my headphone. Not pictured: more hair thing, tweezer and other items.